Cosmetic dentistry refers to any dental procedure that improves the look of your smile. Doctors Bruce, Ririe, and Pothier provide many cosmetic services, ranging from small composites and whitening to all ceramic crowns. Below are some of the cosmetic dentistry options we offer at our offices:
Porcelain Veneers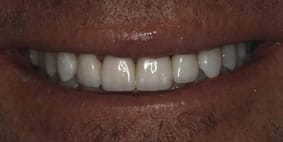 Porcelain veneers are the most commonly used veneers. When used in the correct situations, they can correct a variety of problems and are both conservative and long-lasting. Veneers bond to the existing enamel of the tooth, which is a very strong bond. Your bite plays an important part in deciding which restorations are the right choice for you.
Below is an example of older porcelain veneers that were replaced to correct shade, shape, and color. Notice that the new veneers followed the lower lip line to give a more uniform and youthful appearance. All photos on this page are actual patients of Dr. Dan Bruce.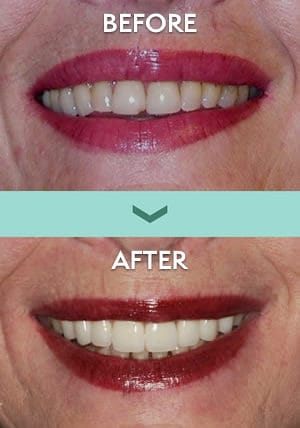 Composite Veneers
Composite veneers are applied directly to the teeth. Some reduction of enamel may be necessary, but often the composite is placed with no or minimal preparation of the teeth. Composite veneers are faster and less expensive than porcelain veneers, but are slightly more limited in their suitable situations. Composite veneers can fade or chip easier than porcelain veneers.
Advantages
Conservative - requires minimal tooth reduction
Fast - Compared to orthodontics, teeth position can be changed immediately
Esthetic - Veneers can be made to very closely mimic the natural colors and light translucencies of natural teeth.
Disadvantages
Tooth preparation, although it is minimal.
Possibility for failure, due to recession and exposed roots or breakage
Other Options
As with any treatment, there are often other options to restore your smile. In some cases a simpler option may provide acceptable results. Some alternatives to veneers include:
Whitening
Bleaching (Tooth Whitening) - Bleaching brightens teeth that are discolored or stained. Our offices can provide both in-office power bleaching or take home bleaching trays. Please talk to one of our doctors to decide which procedure is right for you.
Composite Bonding
Bonding is used to repair small to moderate sized chips, spaces, discolorations or other defects in teeth. A composite material of a similar shade is used to bring the tooth back to its proper shape.
Orthodontics
If the teeth are of the correct shape and color, then orthodontics may be the best option. This can sometimes be performed with Invisalign, but sometimes traditional orthodontics are the best option. After a consultation, our doctors can provide the best options for you.
Our doctors always assess your cosmetic needs when looking at the different ways to restore your smile. We will give you the options that integrate esthetics and function to provide you with the best choice for your teeth.
If you have questions about how to restore your smile, please contact our office for more information