Listening to your problems and concerns and then working diligently to provide optimal care to meet those needs is of utmost importance."
My Philosophy
Dentistry has come a long way since I graduated in 1993 from the University of Iowa, College of Dentistry. Materials have improved, technology has advanced, and we are providing our patients with options that we never even dreamed of before. My philosophy is to provide the very best care possible to every patient that comes to our office. Listening to your problems and concerns and then working diligently to provide optimal care to meet those needs is of utmost importance.
We also want to provide a facility that is clean, and equipped with the necessary tools to provide that care, as well as a staff that loves what they do and can make your experience the best it can possibly be. 
We all want and deserve great health care. Our teeth and surrounding structures are key to providing us long term health. Maintaining and caring for your oral health is our top priority. We are finding out that so many systemic diseases and conditions have a direct correlation to our oral condition. We need to use that information to treat everyone and decrease the risk of many life threatening health concerns.
My Background
I was born and raised in a small town in Southern Alberta, Canada, just 30 miles over the US border of Montana. After graduating from high school, I served a mission for the Church of Jesus Christ of Latter-day Saints in the Detroit, Michigan area. I then attended Brigham Young University where I completed my requirements to attend dental school. I attended the University of Iowa, College of Dentistry. I served as the class President my freshman and sophomore years and then served as President-elect and then President of the student body my Junior and Senior Years respectively. I was honored to give the commencement address at my graduation in the spring of 1993.
I immediately moved to Boise where I began practicing dentistry. I have a wonderful wife and 6 great children. Three girls followed by three boys. One of my daughters has graduated from hygiene school and I have a second that will start soon.
The best part of practicing in Boise is the people. I have been so blessed to have the patients that I do. They are amazing and it has made this experience so enjoyable.
Outside the Office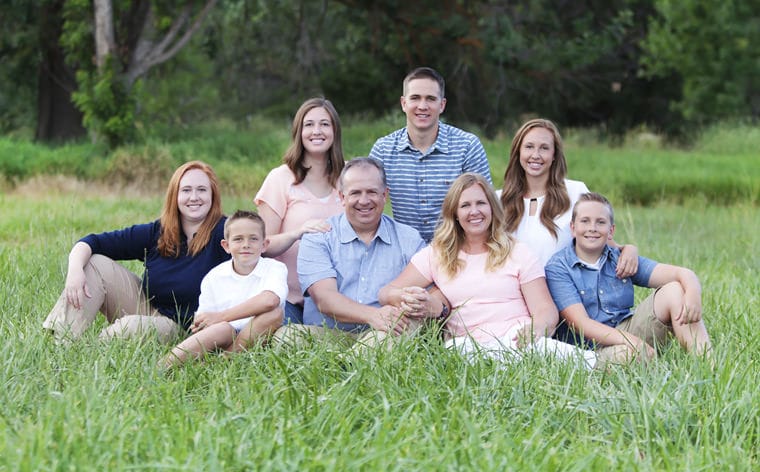 Having 6 children that are pretty active keeps us very busy with all of their activities. I am their biggest fan. One love that I have is boating. Can you imagine a family of 8 in the same boat all day? At least I knew what my kids where doing! Our favorite place to water ski close to Boise is Pilgrims Cove on Payette Lake. Our second is Anderson Ranch Dam. We also love to snow ski. I haven't taken up snowboarding like my kids, but it sure is fun to hit the slopes with my family.
I have also enjoyed playing hockey in the Adult League here in Boise.
Professional Memberships
Dr. Ririe is a member of the following organizations:
The American Dental Association (1989-Present)
The Idaho State Dental Association (1993- Present)
The South West Idaho Dental Association (1993- Present)
The Academy of General Dentistry (1993- Present)
Nominated to the International College of Dentists  2016
Volunteer Activities
YMCA Youth Basketball Assistant Coach
Leadership Positions
Dr. Ririe has enjoyed serving in the following positions:
Idaho Academy of General Dentistry - President (2 year term)
Idaho Academy of General Dentistry - Secretary/Treasurer
Delta Dental Consultant
Idaho State Dental Association Board of Trustees (2003-2006)
Bishop - The Church of Jesus Christ of Latter-day Saints (2006- 2011)
Boy Scouts of America - Executive Officer - Troop 376 (2006-2011)
Boy Scouts of America - Assistant District Commissioner -

Gem State District - Ore-Ida Council (2014 - Present)

Carrington College -

Dental Hygiene Advisory Board Member  (2015 - Present)